With so much talk about an economic slowdown, some people are asking if the housing market is heading for a crash like the one in 2008. To really understand what's happening with real estate today, it's important to lean on the experts for reliable information.
Here's why economists and industry experts say the housing market is not a bubble ready to pop.
Today Is Nothing Like 2008
The 2008 housing crash is still fresh in the minds of many homebuyers and sellers. But today's market is different. Odeta Kushi, Deputy Chief Economist at First American, says:
"This is not the same market of 2008. . . . It's no secret the housing market played a central role in the Great Recession, but this market is just fundamentally different in so many ways."
Natalie Campisi, Advisor Staff for Forbes, explains how today's lending standards are different than those during the lead-up to the housing market crash:
"Among the differences between today's housing market and that of the 2008 housing crash is that lending standards are tighter due to lessons learned and new regulations enacted after the last crisis. Essentially, that means those approved for a mortgage nowadays are less likely to default than those who were approved in the pre-crisis lending period."
Another reason today's housing market is nothing like 2008 is that the number of people looking to buy a home still outweighs the supply of homes for sale. As realtor.com notes:
". . . experts don't believe the market is in a bubble or a crash is in the cards, like during the Great Recession. The nation is still suffering from a housing shortage that has reached crisis proportions at a time when many millennials are reaching the age when they start to consider homeownership. That's likely to keep prices high."
Bottom Line
Experts say the housing market isn't a bubble, and we're not heading for a crash. Let's connect so you can have a full picture of today's housing market in our local area.
The housing market is at a turning point, and if you're thinking of buying or selling a home, that may leave you wondering: is it still a good time to buy a home? Should I make a move this year? To help answer those questions, let's turn to the experts for projections on what the second half of the year holds for residential real estate.
Where Mortgage Rates Will Go Depends on Inflation
While one of the big questions on all buyers' minds is where will mortgage rates go in the months ahead, no one has a crystal ball to know exactly what'll happen in the future. What housing market experts know for sure is that the record-low mortgage rates during the pandemic were an outlier, not the norm.
This year, rates have climbed over 2% due to the Federal Reserve's response to rising inflation. If inflation continues to rise, it's likely that mortgage rates will respond. Greg McBride, Chief Financial Analyst at Bankrate, explains it well:
"Until inflation peaks, mortgage rates won't either. Without improvement on the inflation front, we don't know where the interest rate ceiling will be."
Whether you're buying your first home or selling your current house to make a move, today's mortgage rate is an important factor to consider. When rates rise, they impact affordability and your purchasing power. That's why it's crucial to work with a team of professionals, so you have expert advice to help you make an informed decision about your best move.
The Supply of Homes for Sale Projected To Continue Increasing
This year, particularly this spring, the number of homes for sale has grown. That's partly due to more homeowners listing their houses, but also because higher mortgage rates have helped ease the intensity of buyer demand. Moderating buyer demand slows down the pace of home sales, which in turn helps inventory rise.
Experts say that growth will continue. Recently, realtor.com updated their 2022 inventory forecast. In the latest release, they increased their projections for inventory gains dramatically, going from a 0.3% increase at the beginning of the year to a 15.0% jump by the end of 2022 (see graph below):
More homes to choose from is great news if you're craving more options for your home search – just know that there isn't a sudden surplus of inventory on the horizon. Housing supply is still low, so you'll need to partner with an agent to stay on top of what's available in your market and move fast when you find the one. It's not going to be easy to find a home, but it certainly won't be as difficult as it has been over the past two years.
Home Price Forecasts Call for Ongoing Appreciation
Due to the imbalance between the number of homes for sale and the number of buyers looking to make a purchase, the pandemic led to record-breaking increases in home prices. According to CoreLogic, homes appreciated by 15% in 2021, and they've continued to rise this year.
Even though housing supply is increasing today, there are still more buyers than there are homes for sale, and that's maintaining the upward pressure on home prices. That's why experts are not calling for prices to decline, rather they're forecasting they'll continue to climb, just at a more moderate pace this year. On average, homes are projected to appreciate by about 8.5% in 2022 (see graph below):
Selma Hepp, Deputy Chief Economist at CoreLogic, explains why the housing market will see deceleration, but not depreciation, in prices:
"The current home price growth rate is unsustainable, and higher mortgage rates coupled with more inventory will lead to slower home price growth but unlikely declines in home prices."
For current homeowners looking to sell, know your home's value isn't projected to fall, but waiting to make your purchase does mean your next home could cost more as home prices continue to appreciate. That's why, if you're thinking about buying your first home or you're ready to make a move, it may make sense to do so now before prices climb higher. But rest assured, once you buy a home, that price appreciation will help grow the value of your investment.
Bottom Line
Whether you're a homebuyer or seller, you need to know what's happening in the housing market, so you can make the most informed decision possible. Let's connect to discuss your goals and what lies ahead, so you can determine the best plan for your move.
Over the past few weeks, the average 30-year fixed mortgage rate from Freddie Mac fell by half a percent. The drop happened over concerns about a potential recession. And since mortgage rates have risen dramatically this year, homebuyers across the country should see this decline as welcome news.
Freddie Mac reports that the average 30-year rate was down to 5.30% from 5.81% two weeks prior (see graph below):
But why is this recent dip such good news for homebuyers? As Nadia Evangelou, Senior Economist and Director of Forecasting at the National Association of Realtors (NAR), explains:
"According to Freddie Mac, the 30-year fixed mortgage rate dropped sharply by 40 basis points to 5.3 percent. . . . As a result, home buying is about 5 percent more affordable than a week ago. This translates to about $100 less every month on a mortgage payment."
That's because when rates go up (as they have for the majority of this year), they impact how much you'll pay in your monthly mortgage payment, which directly affects how much you can comfortably afford. The inverse is also true. A decrease in mortgage rates means an increase in your purchasing power.
The chart below shows how a half-point, or even a quarter-point, change in mortgage rates can impact your monthly payment:
Bottom Line
If your home doesn't meet your needs, this may be the opportunity you've been waiting for. Let's connect to see how you can benefit from the current drop in mortgage rates.
Some Highlights
According to the latest data from CoreLogic, the average homeowner gained $64,000 in home equity over the past 12 months.
That much equity can be a game-changer when you move. When you sell, it could be some (if not all) of what you need for a down payment on your next home.
To find out how much equity you have in your home and how you can use it, let's connect today.
According to a recent survey, more and more Americans are concerned about a possible recession. Those concerns were validated when the Federal Reserve met and confirmed they were strongly committed to bringing down inflation. And, in order to do so, they'd use their tools and influence to slow down the economy.
All of this brings up many fears and questions around how it might affect our lives, our jobs, and business overall. And one concern many Americans have is: how will this affect the housing market? We know how economic slowdowns have impacted home prices in the past, but how could this next slowdown affect real estate and the cost of financing a home?
According to Mortgage Specialists: 
"Throughout history, during a recessionary period, interest rates go up at the beginning of the recession. But in order to come out of a recession, interest rates are lowered to stimulate the economy moving forward."
Here's the data to back that up. If you look back at each recession going all the way to the early 1980s, here's what happened to mortgage rates during those times (see chart below):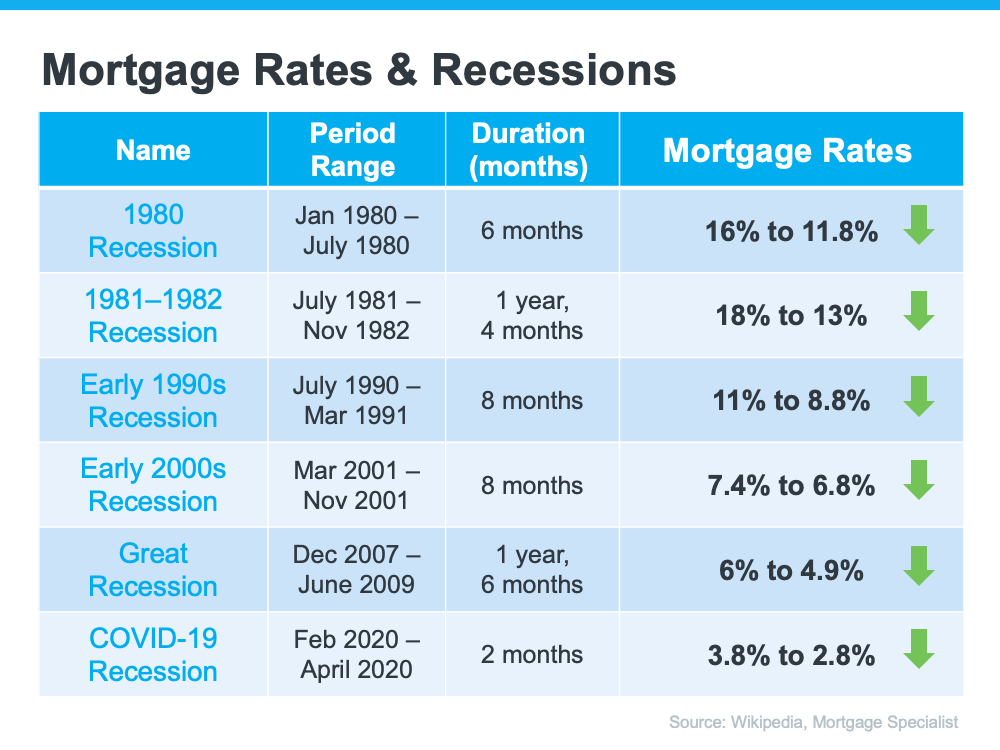 As the chart shows, historically, each time the economy slowed down, mortgage rates decreased. Fortune.com helps explain the trend like this:
"Over the past five recessions, mortgage rates have fallen an average of 1.8 percentage points from the peak seen during the recession to the trough. And in many cases, they continued to fall after the fact as it takes some time to turn things around even when the recession is technically over."
And while history doesn't always repeat itself, we can learn from it. While an economic slowdown needs to happen to help taper inflation, it hasn't always been a bad thing for the housing market. Typically, it has meant that the cost to finance a home has gone down, and that's a good thing. 
Bottom Line
Concerns of a recession are rising. As the economy slows down, history tells us this would likely mean lower mortgage rates for those looking to refinance or buy a home. While no one knows exactly what the future holds, you can make the right decision for you by working with a trusted real estate professional to get expert advice on what's happening in the housing market and what that means for your homeownership goals.
It's true that record levels of home price appreciation have spurred significant equity gains for homeowners over the past few years. As Diana Olick, Real Estate Correspondent at CNBC, says:
"The stunning jump in home values over the course of the Covid-19 pandemic has given U.S. homeowners record amounts of housing wealth."
That's great for your home's value over the last couple of years, but what if you've lived in your home for longer than that? You may be wondering how much equity you truly have.
The National Association of Realtors (NAR) has done a study to calculate the typical equity gains over longer spans of time. The data they compiled could be enough to motivate you to move. Just remember, to find out how much equity you have in your specific home, you'll want to get a professional equity assessment from a trusted real estate advisor.
How Your Equity Grows
Let's start by establishing how you build equity in your home. While price appreciation is clearly a factor that can help boost your equity, you also build equity over time as you pay down your home loan. NAR explains:
"Home equity gains are built up through price appreciation and by paying off the mortgage through principal payments."
Average Equity Growth over Time
The study from NAR breaks down the typical equity gain over time (see graph below). It calculates the equity a homeowner potentially gained if they purchased the median-priced home 5, 10, or 30 years ago and still own it today.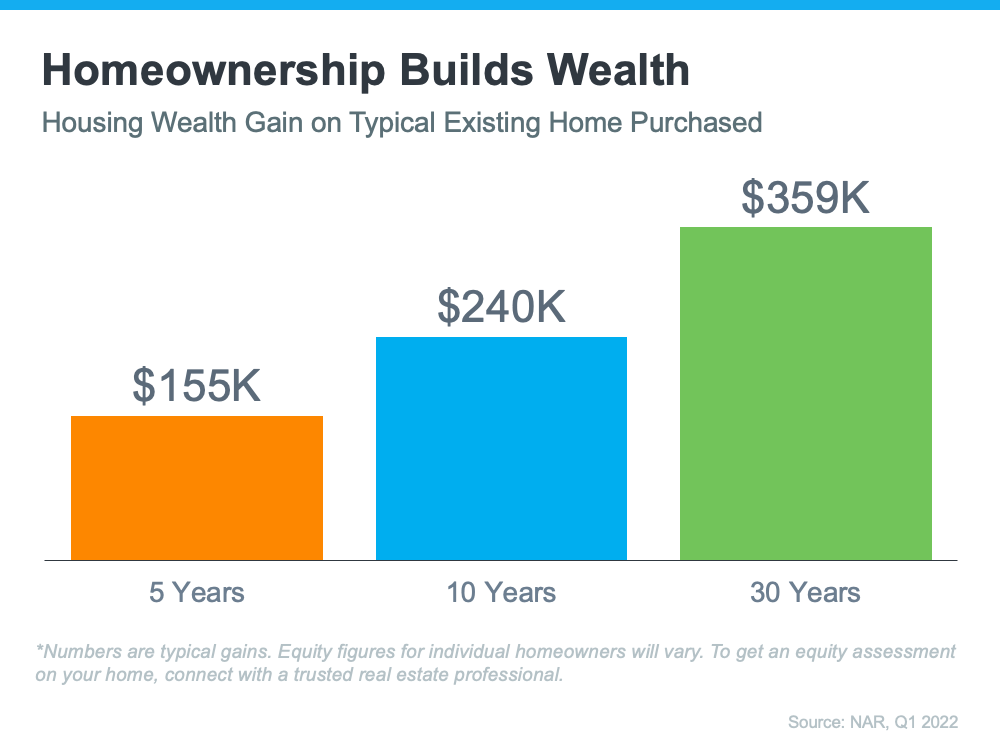 These six-figure numbers are impressive and certainly enough to help you fuel a move into your next home, but they're not a promised amount. Remember, your own equity gain will be different. It depends on how long you've been in the house, your home's condition, any upgrades you've made, your area, and much more.
If you want to find out how much equity you have, partner with a trusted real estate professional for an equity assessment on your home. They can provide an expert opinion on what your house is worth today and how the equity you've gained over time can help you when you purchase your next home. It may be some (if not all) of what you need for your next down payment.
Bottom Line
If you're thinking about selling your house and making a move, home equity can be a real game-changer, especially if you've been in your current home for a while. If you're ready to find out how much equity you have, let's connect.